Student Wellbeing
You can find some resources and links below to support students and parents with wellbeing and health.
UPDATE: 17th June 2023
Please see infirmation below. There are quite a few Community Safety Flashes to make people aware of due to recent house fires in Staffordshire and the current hot weather. The arrival of hot weather means increased use of barbeques, potential wildfires and people being drawn to open water.
This safety flash provides important information on log burners, electrics, home fire safety and what to do in the event of a fire, use of barbeques, outdoor fire safety and water awareness.
UPDATE: 20th April 2023
Please see information below about water safety
UPDATE: 15th December 2022
Please see information below about water safety and freezing conditions.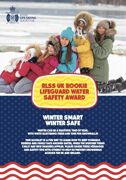 UPDATE: 12th December 2022
Please see letter below about "What is 'Domestic Abuse?'" workshops for Key Stages 3 and 4
UPDATE 16th September 2022
Please see letter below or follow this link for parents of children between the ages of 5-15 about the walk in clinic at Burton Fire Station on Sunday 18th September.
UPDATE 19th July 2022:
See the leaflet below from Staffordshire Fire & Police Services about Summer safety.
Staffordshire County Council still have a number of places available on the HAF programme across the county. We have issued over 22,000 letters with codes and if you could support, encourage, and remind parents that free holiday clubs with meals are avaible to children in receipt of benefits related free school meals.
It's easy, just have your child/childrens' code and register at: www.staffordshire.gov.uk/holidayactivities
UPDATE 29th June 2022:
Burton Library are holding a Health Information Fair on Saturday 2nd July between 11am and 2pm
This is a free event with stalls by local health organisations, health checks, FREE healthy snacks and activities for children.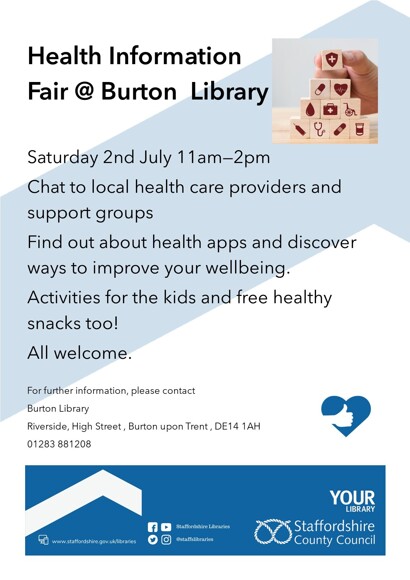 UPDATE 30th June 2021:
The following agencies are available to support any students with concerns/issues during the Summer holidays:
Intervention Agencies:
Young Minds
088 802 5544
M-F 9.30am to 4pm (free for mobiles and landlines)
Young Minds Crisis Messenger
Provides free, 24/7 text support for young people across the UK experiencing a mental health crisis.
All texts are answered by trained volunteers, with support from experienced clinical supervisors.
Texts are free from EE, O2, Vodafone, 3, Virgin Mobile, BT Mobile, GiffGaff, Tesco Mobile and Telecom Plus.
Texts can be anonymous, but if the volunteer believes you are at immediate risk of harm, they may share your details with people who can provide support.
Text: YM to 85258
Opening times: 24/7
---------------------------------------------------------
Samaritans
Phone 116 123
email: jo@samaritans.cor
Opening times 24.7
---------------------------------------------------------
Papyrus
Offers confidential advice and support for young people struggling with suicidal thoughts.
Its helpline service - HOPELINEUK - is available to anybody under the age of 35 experiencing suicidal thoughts, or anybody concerned that a young person could be thinking of suicide.
Phone: 0800 068 4141
Text: 07860039967
Email: pat@papyrus-uk.org
Opening times: 9am – midnight, 365 days a year
-------------------------------------------------------------------------------------
CALM (Campaign Against Living Miserably)
Provides support to anyone in the UK who is feeling down and needs to talk or find information.
Free webchat service available.
Information about the helpline and how it works available here.
Phone: 0800 58 58 58
Opening times: 5pm - midnight, 365 days a year
-----------------------------------------------------------------------------------
Childline
If you're under 19 you can confidentially call, chat online or email about any problem big or small.
Sign up for a free Childline locker (real name or email address not needed) to use their free 1-2-1 counsellor chat and email support service.
Can provide a BSL interpreter if you are deaf or hearing-impaired.
Hosts online message boards where you can share your experiences, have fun and get support from other young people in similar situations.
Phone: 0800 1111
Opening times: 9am - midnight, 365 days a year
------------------------------------------------------------------------------------
The Mix
Offers support to anyone under 25 about anything that's troubling them.
Email support available via their online contact form.
Free 1-2-1 webchat service available.
Free short-term counselling service available.
Phone: 0808 808 4994
Opening times: 4pm - 11pm, seven days a week
UPDATE 28th January 2021:
Letter below about Operation Encompass.
UPDATE 18th December 2020:
Please see below for info about applications for the NSPCC Young People's Board for Change.
Christmas/Covid updates from Staffordshire Sexual health Services: https://openclinic.org.uk
UPDATE 1st September 2020:
Hope Project have a parent support session next Tuesday evening. Tuesday's theme is CREATING CONECTION in time of CHAOS
Registration link below: Parents need to register once for the link to attend of the sessions.
https://us02web.zoom.us/meeting/register/tZwsde6gqT0jG9Z1P-U0IckA4Y7KBzYDihxU
UPDATE 15th September 2020:
Link to Staffordshire Youth Union - https://staffscvys.org.uk/syu-voice/
If you live in East Staffordshire (Burton, Uttoxeter and surrounds) please take 10 minutes to complete this survey. The results will form recommendations on how access to and the variety of activities for young people can be improved for the local area in the future.
UPDATE 28th August 2020:
Midlands Partnership NHS Foundation Trust (MPFT) have launched a local page on a ground-breaking website 'Health for Teens': www.healthforteens.co.uk
This unique website is the first NHS website that has been created by and for young people, complementing and raising the accessibility of School Nurses.
Each area presents health advice through facts, quizzes and articles. MPFT have developed a "local page" which will enable young people to find a range of services in Staffordshire and Stoke-on-Trent to support them.
The local area section for young people includes local news, announcements, services, a search for a School Nurse function and locally produced articles on young people's health.
The main website features a diverse range of health topics from mental health to puberty, sexual health to bereavement. The articles, quizzes, and interactive content has been written and overseen by experts from services including school nursing, health improvement, smoking cessation, dietetics, paediatricians and mental health.
The website content is presented through six areas:
UPDATE 15th June 2020:
You can book a talk with HOPE Project about mental health support for parents & carers at their next Zoom chats - see below:
\
You can also book onto their Zoom workshop for parents/carers about "Teenage Brain Development" - see below:
UPDATE 1st June 2020:
You can talk with HOPE Project about mental health support for parents & carers at their next Zoom chat - see below:
UPDATE 2/4/20:
Additional advice, links and resources for students added to https://www.deferrers.com/coronavirus
There is a new emotional support service (Action for Children) for children and families living in Staffsordshire: https://www.staffordshire-ewb.actionforchildren.org.uk/staffordshireemotionalhealthandwellbeingservice/informationforchildrenyoungpeopleandfamilies
UPDATE 24/3/20:
Advice from Young Minds about coronavirus: https://youngminds.org.uk/blog/what-to-do-if-you-re-anxious-about-coronavirus/
UPDATE 22/03/20:
Catch22 have compiled 2 fact sheets containing the telephone numbers and websites of several support services that children and parents can access over the next few weeks/months whilst isolated.
Useful website: what to do if your child is anxious about going back to school:
https://youngminds.org.uk/blog/what-to-do-if-your-child-is-anxious-about-going-back-to-school/?fbclid=IwAR2-XvhOsogLXRbYNSElultmY-n3HJsoBpjfGKI9ScYgn1BJxQH__JUw8kc