Mental Health
Update 31st March 2023: Mental Health Support Team
See poster below about self-referral for Mental Health Support over Easrer holidays.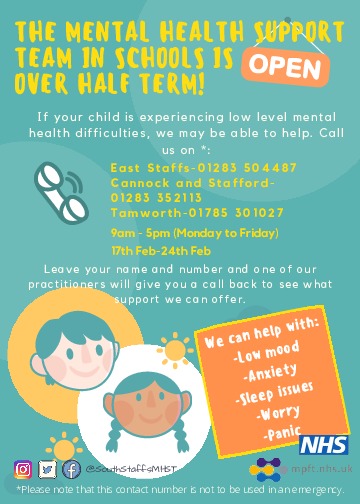 Update 19th July 2022:
Mental Health Support Team in Schools Summer Support.
A reminder that support is available for children and young people over the summer holidays to support with anxiety and/or low mood from MHST. For further information or to request support please call 01283 504487 (Mon-Fri, 9am-5pm).
Alternatively online 1:1 support and resources can be accessed through our partner Cerebral - https://sandbox.getcerebral.co.uk/
Update 7th August 2021:
The Anna Freud centre is a leading centre that supports children's mental health and this summer they are offering free online sessions for children and families to sign up to. The workshops range from self care to upskilling, TED style talks and much more., all held online over two days: 12th and 13th August.
Children and families can pick and choose what they sign up to.
https://www.annafreud.org/training/training-and-conferences-overview/online-conferences-webinars-and-events/summer-participation-involvement-event/
Update 19th July 2021:
See below for some information about support groups and apps to support student mental health:
Update 5th July 2021:
The Mental Health Support Team will be opening up a self-referral pathway to their service over the summer holidays. This will commence on Monday 19th July and end on Friday 3rd September. This is open to any children/young people in attendance at The de Ferrers Trust. Please note: the service is only open to allocated schools in Burton/Uttoxeter during the 6 week holidays so please do not forward this information to other schools as the schools we are commissioned to work with are all notified of this service.
If parents have concerns regarding their child and a common mental health difficulty (including low-moderate anxiety, low mood, phobia, sleep difficulties or panic) they will be able to call our team on 01283 504487, Mon-Fri, 9am-5pm. Parents should leave their name and number and a practitioner will be in touch to discuss what support we may be able to offer.
Update February 2021:
Please find below a poster to promote the Emotional Wellbeing Support Session Virtual Groups being ran by YESS - Your Emotional Support Service. Groups will be advertised on our YESS Facebook & Instagram pages also. We will be continuing these groups throughout the year with new topics and opportunities to catch up with topics that may be repeated such as Anxiety/ Low Mood.
The Emotional Wellbeing Support Sessions, funded by Children in Need, is a service for children and young people. The aim is to support children and young people's emotional wellbeing and managing our emotional regulation with tips and strategies.
The groups for Burton & Uttoxeter are held on a Thursday evening and take up will be on a first come, first serve basis. Group timings will be from 16:30pm- 17:30pm. We also offer a telephone service is available for young people and parents to call through for more information, advice and signposting between 15:30pm- 16:15pm. They can contact YESS directly on 07794473442.
If you haven't already, or would like more information about our service, please do not hesitate to contact YESS on 01889 567756.
You can check out our webpage www.yess.uk and our schools commissioning service catalogue is available to download. Also, please follow our Facebook page (Your Emotional Support Service), Twitter, Instagram and subscribe to our YouTube Channel for the latest updates, more information and resources.
We are a local Staffordshire Charity who are continuing to support vulnerable children and young people throughout this pandemic
Update: January 2021
Please see below for some information regarding online courses and sessions that are currently available to sign up for. The Wellbeing and Mood Management Course is being delivered by the Burton and Uttoxeter Wellbeing Team. Time 4 Sport are delivering Family Health and Wellbeing sessions.
You can also find out about the LCRF coffee mornings and support sessions via the poster below.
(i) WAMM
Need help managing your mood? Burton and Uttoxeter Wellbeing Team are hosting another brilliant free online course open to anyone in Staffordshire. If you would like to book, please contact the Wellbeing Team on 01283 504872
(ii) Time4Sport
Time4Sport are running free virtual family health and well-being clubs via YouTube during lockdown. These are for families with children aged 2 to 15. The sessions start on the week commencing 18th January on a Monday 3-4pm or a Friday 1-2pm and will include weekly workouts, fun physical challenges, motivation and support from your own Time4Sport coach with advice for parents/ carers on topics such as health eating on a budget.
To sign up, please click on this link and complete the form https://forms.gle/YovDaqiY4rCk2tTS9
Update: August 2020
See below for some upcoming parent/carer workshops:
Please click below for further information booklets, advice and weblinks to support student mental health:
NSPCC:
Lots of information about keeping children safe and different types of abuse
BEAT:
https://www.beateatingdisorders.org.uk/
Information and guidance around eating disorders
Mermaids:
Information and support for any issues around gender and identity
Child Bereavement UK:
https://www.childbereavementuk.org/
Support and guidance to help children cope with grief and loss
National Autistic Society:
Information and guidance about the autism spectrum
FRANK:
Information and guidance around drugs and alcohol
Scope:
For information and support surrounding disabilities
The Mix:
Support and guidance for under 25s on a variety of topics, including mental health.