Community Events
25/04/2023: Sportworks short breaks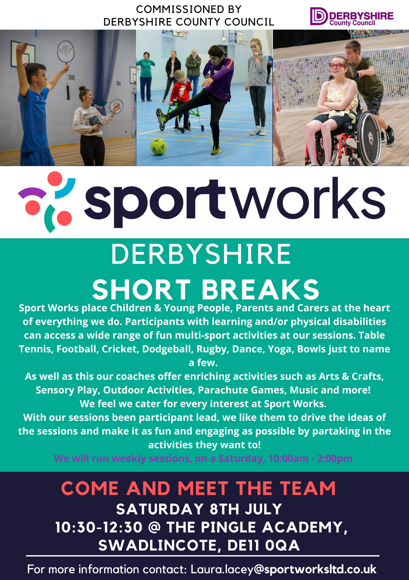 19/04/2021: Theatre Cats
Theatre Cats Stage School is opening its doors again from Tuesday 20th April and would like to invite your child to come along for a free taster class!
Theatre Cats Stage School is an exciting and dynamic school of Theatre Arts that was established in Burton on Trent in January 2008. Theatre Cats is for children and young adults aged between 5 and 16 years of age and offers theatre classes in Burton, Swadlincote and Mickleover.
Here at Theatre Cats we pride ourselves on being a friendly, inclusive and exciting stage school which offers everyone - regardless of previous experience, the opportunity for development to become the best they can be. Our aim is to encourage confidence and self-esteem through the performing arts. Learning through these art forms allows children to explore their creativity and have fun whilst leaving their shyness and worries behind.
So, to find out more or to register your interest, simply pop along to www.TheatreCats.co.uk or call 01283 337953.