ADMISSIONS FOR CURRENT Y6 STUDENTS
UPDATE: Remember that the final date for applications for Y6 admissions is 31st October 2022
The de Ferrers Academy takes part in Staffordshire County Council's co-ordinated admissions scheme, and all applications are made on the Common Application Form.
Applications can be made online through the page below on the Staffordshire website from 4th September 2022 up until 31st October 2022. This application form is for parents of current Y6 students
Click here for online application form for parents of current Y6 studentsWhere the number of applications is greater than the published admission number, applications will be considered against the attached over-subscription criteria.
Any queries relating to admissions to the academy should be sent to office@deferrers.com with the subject marked as "Admissions".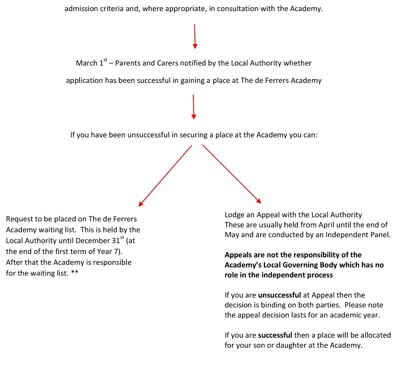 Admission to the Academy other than at the Normal Age of Entry (In Year Admission):
This application form is for completion by parents who have recently moved into The de Ferrers Academy catchment area or any other parent who can fulfil the admission criteria and wishes to complete an in-year transfer to The de Ferrers Academy
Decisions regarding any in year applications made will be communicated to parents / carers within 15 school days. Parents should be aware that if their application is unsuccessful, they have the right of appeal to an independent appeal panel. Further details of this process are available at https://www.staffordshire.gov.uk/Education/Admissionappeals/home.aspx